Canadian Occupational Projection System (COPS)
Industrial Summary
Air, Rail, Water and Pipeline Transportation Services
NAICS 4811-4812; 4821; 4831-4832; 4861-4869; 4871-4879; 4881-4889
This industry comprises establishments primarily engaged in transporting passengers and mechandises by air, rail and water. It also includes establishments transporting goods by pipeline (such as crude oil, natural gas and refined petroleum), those providing recreational transportation services (such as sightseeing or dinner cruises and steam train excursions), as well as those providing support services to various transportation establishments (specific to a mode of transportation or multi-modal). Support services are the largest of the six segments, accounting for 38% of production and 47% of employment in 2016. Other major segments include: air transportation (24% of production and 29% of employment); rail transportation (18%, 12%); and pipeline transportation (16%, 6%). Overall, the industry employed 251,600 workers in 2016, mostly concentrated in Ontario (26%), Quebec (23%), British Columbia (22%) and Alberta (15%), with a workforce primarily composed of men (71%). Key occupations (4-digit NOC) include:
Air pilots, flight engineers, flying instructors (2271)
Transport truck drivers (7511)
Airline ticket and service agents (6523)
Pursers and flight attendants (6522)
Aircraft mechanics and aircraft inspectors (7315)
Public works maintenance equipment operators and related workers (7522)
Managers in transportation (0731)
Supervisors, supply chain, tracking and scheduling co-ordination occupations (1215)
Railway and yard locomotive engineers (7361)
Air transport ramp attendants (7534)
Deck officers, water transport (2273)
Customs, ship and other brokers (1315)
Longshore workers (7451)
Air traffic controllers and related occupations (2272)
Railway yard and track maintenance workers (7531)
Railway conductors and brakemen/women (7362)
Water transport deck and engine room crew (7532)
Supervisors, railway transport operations (7304)
Railway carmen/women (7314)
Boat and cable ferry operators and related occupations (7533)
Ground and water transport ticket agents, cargo service representatives and related clerks (6524)
Railway and motor transport labourers (7622)
Railway traffic controllers and marine traffic regulators (2275)
Engineer officers, water transport (2274)
The industry relies heavily on domestic and foreign demand for travel as well as on tranportation and international trade of merchandises. After being negatively affected by the recession of 2008-2009, output in the industry increased at a solid pace between 2010 and 2016, driven by the recovery in domestic and global economic conditions, which resulted in increased discretionary spending on travel and tourism activities and renewed growth in international trade. Growth in output was particularly strong in the past three years as the industry benefited from the sharp drop in crude oil prices in 2014, which resulted in lower fuel costs and a weaker Canadian dollar. More precisely, lower fuel costs have allowed airlines to reduce fare prices, stimulating demand for their services, while a weaker currency has attracted a record number of international travelers flying to Canada and encouraged more Canadians to choose vacation within the country and use routes exclusively served by domestic airlines. A weaker currency has also contributed to increase Canadian exports, supporting demand for the transportation of goods by rail, boat or pipeline. On average, real GDP and employment in the industry increased at annual rates of 2.5% and 1.5% respectively over the period 2007-2016, outperforming the overall economy in terms of output growth and job creation, primarily driven by the solid performance of the air transportation and support services segments.
Broad economic conditions remain positive for the industry, particularly in the first half of the projection period. Low fuel prices, a favourable currency situation, and robust labour markets in the United States and Canada have pushed demand for air travel to record levels in recent years and this situation is expected to persist over the short- to medium-term. By adding capacity on domestic and international markets, Canadian airlines are well positioned to capture as much of this trend as possible. Demand for air travel is rising in line with higher incomes in emerging markets, particularly in Asia, while the growing interconnectedness of the global economy is expected to stimulate business travel between Canada and the rest of the world. The faster pace of growth projected in exports (spurred by stronger foreign demand, a weak Canadian dollar and incoming trade deals such as the Comprehensive Economic Trade Agreement with the European Union) is also expected to increase business travel and the transportation of merchandises by rail or boat. The construction of several large pipelines across Canada is an additional factor expected to support output growth in the industry. Over the longer term, however, growth is expected to slow gradually, as the tailwinds that have propelled the industry to new heights will begin to soften. Most of the readjustment of travel patterns to the lower currency will be realized and although the increases in oil prices are projected to be modest, they will put upward pressures on fares and downward pressures on demand. High consumer debt levels and the gradual increase anticipated in interest rates are also expected to put pressures on household budgets, restraining discretionary spending on travel and tourism activities, while the threat of higher protectionism in the global economic system, including the United States, could curtail trade and business travel between countries. The resulting pace of growth in the industry's real GDP is projected to average 2.2% annually over the period 2017-2026, a slight slowdown relative to the previous decade. Employment growth is also projected to weaken, averaging 1.1% per year. Increased competition for incumbent airline companies has arrived in the form of Canada Jetlines and Newleaf, which is expected to lower prices and decrease profits. The growing number of competitors on the domestic and international markets will inevitably force the industry to increase efficiency and productivity at the expense of employment.
Real GDP and Employment Growth Rates in Air, Rail, Water and Pipeline Transportation Services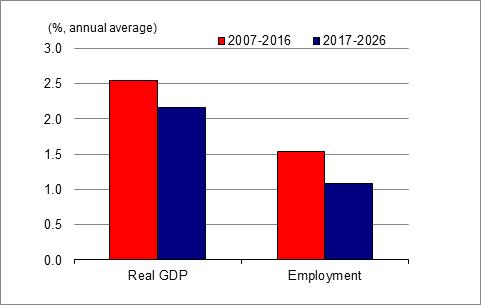 Source: Statistics Canada (historical) and ESDC 2017 COPS industrial scenario (projections).
Text Version of Figure Real GDP and Employment Growth Rates in Air, Rail, Water and Pipeline Transportation Services, 2007-2016 and 2017-2026, in Percent

| | | |
| --- | --- | --- |
|   | Real GDP | Employment |
| 2007-2016 | 2.5 | 1.5 |
| 2017-2026 | 2.2 | 1.1 |
Source: Statistics Canada (historical) and ESDC 2017 COPS industrial scenario (projections).
---