Canadian Occupational Projection System (COPS)
Industrial Summary
Truck and Ground Passenger Transportation Services
(NAICS 4841-4842; 4851-4859)
This industry comprises establishments primarily engaged in the truck transportation of merchandises and in a variety of transit and ground passenger transportation activities (such as urban transit systems, interurban and rural bus transportation, taxi and limousine services). Truck transportation is the largest of the two segments, accounting for 71% of production and 61% of employment in 2018. In comparison, transit and ground passenger transportation accounted for only 29% of production, but 39% of employment, making this segment the most labour intensive. Overall, the industry employed 516,100 workers in 2018, mostly concentrated in Ontario (40%), Quebec (24%), Alberta (14%) and British Columbia (11%). The workforce is primarily composed of men (82%) and characterized by a significant proportion of self-employed, particularly in truck transportation (32%). Key occupations (4-digit NOC) include:
Transport truck drivers (7511)
Bus drivers, subway operators and other transit operators (7512)
Taxi and limousine drivers and chauffeurs (7513)
Supervisors, motor transport and other ground transit operators (7305)
Automotive service technicians, truck and bus mechanics and mechanical repairers (7321)
Material handlers (7452)
Managers in transportation (0731)
Dispatchers (1525)
Railway and motor transport labourers (7622)
Transportation route and crew schedulers (1526)
Ground and water transport ticket agents, cargo service representatives and related clerks (6524)
The industry is closely tied to the performance of the domestic economy and international trade. Since it is dominated by truck transportation services, the largest users are the retail trade and wholesale industries and the goods-producing industries (agriculture, resources, manufacturing and construction). The demand is driven by the need to move inputs to producers, final goods to consumers, and primary products to international markets. With consumer spending increasing at an average annual rate of 2.3% from 2009 to 2018, the demand for the transportation of merchandises was correspondingly solid as well. On the other hand, transit and ground passenger transportation is strongly influenced by the degree of urbanization and the associated demand for public transit systems within major Canadian cities. Over the past decade, all levels of government have made important investments in public transit systems across the country that have boosted ridership and thus, output and employment in the industry. After contracting during the recession year of 2009, output in the industry quickly recovered in 2010 and posted steady growth in most years since then. The resulting pace of growth in real GDP averaged 2.2% annually over the period 2009-2018. On the employment side, growth largely tracked the rate of output, albeit at a slightly slower pace of 1.9% per year. Employment growth was particularly strong in the transit and ground passenger transportation segment, averaging 3.7% annually. However, labour shortages in long-haul trucking have been particularly acute and have acted as the main constraint on employment growth in the industry. Between 2015 and 2018, the average number job vacancies for truck drivers rose from 48,000 to 81,000. As a result, the truck transportation industry had the highest job vacancy rate across all Canadian industries in 2018, averaging 6.6%. This is more than double the Canadian average vacancy rate of 3.2%. While the truck driver occupation pays relatively well given the skills required, some of the requirements are also substantial. They include holding specific licenses and certificates, as well as working 12-hour shifts, and being away from home for extended periods of time. The high cost of insurance premiums for drivers below 25 years old, who have little driving experience, represents an additional challenge in recruiting truck drivers.
Over the projection horizon, the industry's output is expected to grow at a slightly slower pace than during the period 2009-2018. Indeed, the weaker pace of growth anticipated in consumer spending and construction activity in Canada is projected to translate into slower growth in retail and wholesale industries, limiting the demand for the transportation of merchandises, which strongly relies on domestic freight. This factor is expected to be partly offset by stronger increases in exports, supported by a robust U.S. economy and the relatively low value of the Canadian dollar. The transit and ground passenger transportation segment is also expected to benefit from additional investment in transportation infrastructure and public transit, partly supported by the federal government's infrastructure program. The gradual displacement of the Canadian population toward urban centers will increase the need for transit alternatives in order to ease road congestion and reduce carbon emissions. This demand should be met in part by major commuter-rail projects under construction in Edmonton, Toronto and Ottawa.
On average, real GDP in the industry is projected to grow by 1.8% annually over the period 2019-2028, compared to 0.8% for employment. Job creation is expected to be constrained by persisting labour shortages for truck drivers and productivity-enhancing technologies. While driverless vehicles are already in use in controlled environments like ports, mines and even Alberta's oil sands, it is unlikely that driverless freight trucks will appear on the roads over the next few years. Over the longer-term horizon, however, driverless trucks and cars are a real possibility. Until then, truck drivers are expected to face significant labour shortages, especially those involved in long-haul operations who are particularly difficult to attract due to specific license requirements and demanding working conditions. Labour shortages are expected to be amplified by the large proportion of truck drivers in their retirement years. At the same time, non-traditional driving services like Uber and Lyft should continue to affect traditional taxi services, decreasing prices for consumers and lowering demand for taxi drivers.
Real GDP and Employment Growth Rates in Truck and Ground Passenger Transportation Services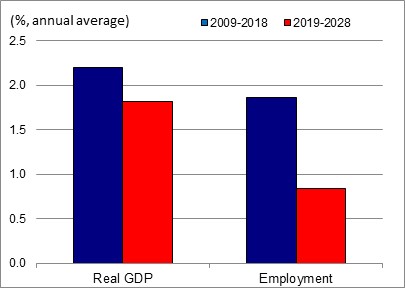 Sources: Statistics Canada (historical) and ESDC 2019 COPS industrial projections.
Text Version of Figure Real GDP and Employment Growth Rates in Truck and Ground Passenger Transportation Services (%, annual average)

| | | |
| --- | --- | --- |
|   | Real GDP | Employment |
| 2009-2018 | 2.2 | 1.9 |
| 2019-2028 | 1.8 | 0.8 |
Sources: Statistics Canada (historical) and ESDC 2019 COPS industrial projections.
---